Podcast Episode 9: 'Nice Girls Don't Speak Up & Stand Out' audiobook
with Dr Lois Frankel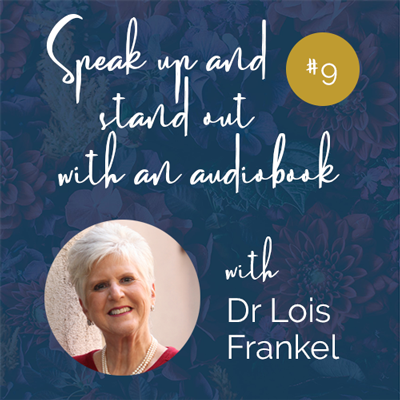 About Dr Lois Frankel
Dr Lois Frankel chats about her latest book, released in late 2019, 'Nice Girls Don't Speak Up or Stand Out – How to make your voice heard, your point known, and your presence felt'. Released only in audiobook format, this book is designed to let you hear how it sounds to answer questions confidently, engage in difficult conversations, make your point crisply and cogently, and so much more.
Dr Frankel is a bestselling author, executive coach, and an internationally-recognized expert in the field of leadership development for women. She is also President of Corporate Coaching International, a recognized leader in the field of executive development. Her New York Times bestselling books include 'Nice Girls Don't Get the Corner Office', 'Nice Girls Don't Get Rich' and 'Nice Girls Just Don't Get It'.
Listen to the Episode with Dr Lois
The publishers of Dr Lois Frankel's latest book wanted to continue building her 'Nice Girls' brand, hence the title 'Nice Girls Don't Speak Up or Stand Out – How to make your voice heard, your point known, and your presence felt'. It has been released only in audiobook format, and enables women to HEAR hear how it sounds to ask and answer questions confidently, approach difficult conversations, and make their point in a way that will be taken seriously.
Lois's first book was originally titled 'Quit Being a Girl' because that was the advice she would find herself giving her women clients when they would behave in a stereotypical female way and 'be nice' when it came to their career, rather than see themselves as a strong woman in the workplace. The publisher, Hachette, changed the title to 'Nice Girls Don't Get the Corner Office' when it was released in 2005 and it went on to become a best-seller.
About the 'nice girl' theme: You can be nice and get what you want in your career, but you don't need to be submissive or ask for permission. You are a woman, so don't behave like the little girl you were taught to be in childhood. Women in leadership have come 'a way, not a long way'. There is still a long way to go. We are still not seeing equity.
About self-doubt: How can we run our best race when we are doubting where we are putting our feet?
Even though Dr Lois Frankel is best known as an author and speaker, she is still running her business, Corporate Coaching International. Her name became a separate brand with the success of her books. People hire Lois Frankel, not her business, to coach them.
Lois highly recommends using your own name for your business: she would probably call her business this, if setting it up today – Dr Lois Frankel & Associates. She recommends women think big when starting out – add 'and Associates / International / Company' or similar to their own name.
The advantage of recording the new audiobook in a studio with a team was that Lois could edit the recording content as she went along – fix mistakes, change the way she said things, or change the words.
Lois has re-released a book in the past with Hachette, who bought the rights from the original publisher, and changed the title to 'Stop Sabotaging Your Career', which came out in the same year as the first 'Nice Girls' book, as a part of that deal. To re-launch a book in the US, working with a publisher, you need to change the content by at least 30%.
Lois Frankel is scheduled to speak about 'Nice Girls Don't Speak Up or Stand Out' at Business Chicks events in Australia in June 2020.
This is the final year Lois will be travelling and speaking about her books. Her focus next year will be on working with women to help them with confidence and communication in their quest to be voted into public office as leaders – something she feels strongly about.
Subscribe Now and Never Miss an Episode
We hope you liked this episode and found it useful to your business (and you!) If you loved what you heard, we'd love your support either from a review on iTunes or a social media share.
Did you enjoy this episode? We'd love for you to share it!