Podcast Episode 8: Become a publisher with IngramSpark
with Debbie Lee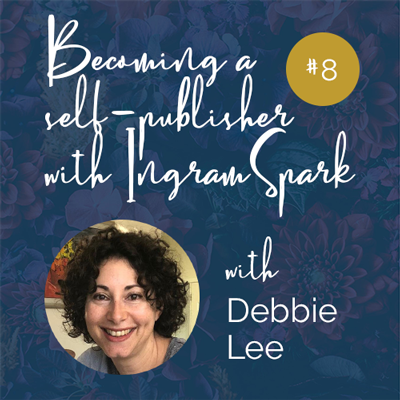 About Debbie Lee
Debbie Lee is the Senior Manager of Content Acquisition and Business Development with Lightning Source Australia. IngramSpark is part of that company and provides a brilliant platform for self-publishers. Debbie speaks here about the advantages of their system, as they do print on demand and global print & e-book distribution, enabling you to take control of your book and become a publisher as well as author. 
Listen to the Episode with Debbie
IngramSpark does print on demand and global book and e-book distribution for publishers of all shapes and sizes, including multi-nationals and independent author-publishers (or indie publishers) that may only ever do one or two books.
IngramSpark is a print book distributor. It is the largest wholesaler of books in the world. It has the most retail customers of any other wholesaler/distributor. They store the metadata from all the books that are in their system. Any retailer, whether they use iPage or Nielsen or they receive an ONYX feed, can actually look up a title and order it from IngramSpark.
IngramSpark works with book retailers to make author-publishers' books available to the retail market. They have about 40,000 retail partners, and that includes online retailers, physical booksellers, library suppliers, other wholesalers, institutions. They have access to their clients' book titles in their system.
IngramSpark book metadata feeds out to online book sellers including Amazon Australia, Fishpond, which is New Zealand-based, and also The Nile. They receive an ONYX feed. There are a lot of online retailers that do take a feed from IngramSpark, that will distribute or make the books that are available in the IngramSpark system accessible to market.
IngramSpark distributes e-books as well. By supplying IngramSpark with an .epub file and a jpg cover, your e-book's metadata can go out to Amazon, Apple, and the 20 other online retailers, including Booktopia.
IngramSpark recommends to self-publishers that they work with 'author service providers' who are experts in the production of book files that comply with the IngramSpark platform requirements.
IngramSpark is a print company as well. Using IngramSpark print services, an author-publisher can have one or more books printed and shipped to anywhere in the world within three to five days.
You can take orders for your book online or in person, and IngramSpark can fulfill and despatch those orders at the click of a button.
IngramSpark does two types of hardback. One is just a case laminate, which is where the cover emulates the paperback and it's on a type of hard cardboard backing. Then there's the new digital cloth, which looks like a cloth-covered book. Usually it would come with a dust cover as well.
There are useful calculators on the IngramSpark website that help authors with book sizes, options and costs. (See link below.)
You can print sample copies of your books using the print on demand system, for final proofreading and helping you finalise choices such as size, paper stock and cover finish.
You can can easily make updates to your book in the IngramSpark system by simply replacing the book cover and/or page layout files at any time.
Subscribe Now and Never Miss an Episode
We hope you liked this episode and found it useful to your business (and you!) If you loved what you heard, we'd love your support either from a review on iTunes or a social media share.
Did you enjoy this episode? We'd love for you to share it!