Podcast Episode 6: Publishing & Purpose
with Carolyn Tate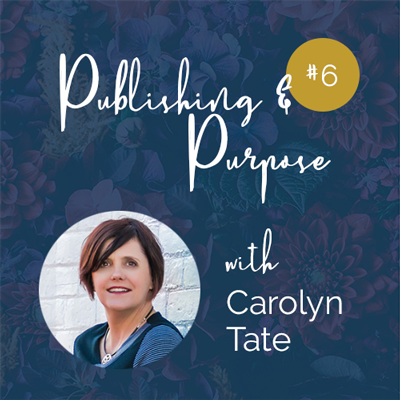 About Carolyn Tate
Carolyn is a marketer with a passion for purpose-digging, writing, speaking, teaching and community building. Carolyn is the author of five books; 'Small Business Big Brand', 'Marketing Your Small Business for Dummies', 'Unstuck in Provence' (a personal memoir), 'Conscious Marketing' and 'The Purpose Project'. You can find Carolyn at www.carolyntate.co.
Listen to the Episode with Carolyn
The book, 'The Artist's Way' by Julia Cameron, helped Carolyn write her third book, 'Unstuck in Provence', a 68,000-word manuscript, and forms an essential part of her ongoing creative work.
Carolyn is the author of five books; Small Business Big Brand, Marketing Your Small Business for Dummies, Unstuck in Provence (a personal memoir), Conscious Marketing and The Purpose Project. She is also the creator of The Purpose Project Course, an online course dedicated to helping employees and leaders bring their why to work.
Carolyn picked the best lessons and content from The Purpose Project and put it into a seven-step process and seven lessons so that somebody can go from having no idea what their purpose is, to actually developing a purpose project and pitching it to their boss.
Most people are in jobs doing what they're good at and what they can be paid for but they've probably neglected the 'what you love' and 'what the world needs' circles. Carolyn's view is that we can bring those two circles to our work.
"What happens in the corporate world is that we just get so stuck in our job, and that becomes who we are. So I feel like it's the new frontier of purpose and I'm really, really excited about this work and I'm keen to see leaders really adopt it – or think about it at least. So I'm hoping to lead the movement."
"Know why you want to do it, know what it is you want to achieve, but let the how unfold a little more loosely because I think we can get too attached to the how without knowing why or what."
"People love the stories most. They love your vulnerability. They love your experiences of where things went belly up as well as the positive – the good and the bad and the ugly. I think people want to know who you are as a person. They're buying your essence when they buy your book."
"I think that applies to anyone who has the will and knows the why to write a book; it has nothing to do with where you work or what your job is. Whether you're a mother, whether you work in a big corporate. Just do it. And in a big corporate, you have an immediate audience. Very often, you have even resources at hand to help you get the book out into the marketplace."
Subscribe Now and Never Miss an Episode
We hope you liked this episode and found it useful to your business (and you!) If you loved what you heard, we'd love your support either from a review on iTunes or a social media share.
Did you enjoy this episode? We'd love for you to share it!