Podcast Episode 5:
Handle Your Own PR
with Jules Brooke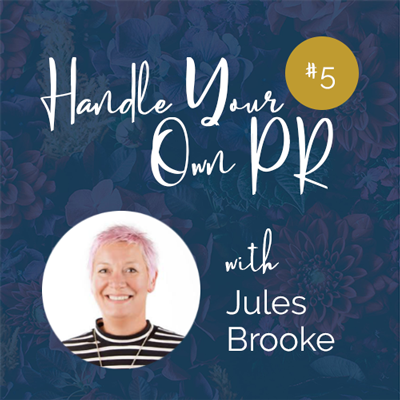 About Jules Brooke
Jules Brooke specialises in DIY public relations, and assists authors and business owners to find their newsworthy message, connect with media and share their story to a larger audience via her own media platform 'Handle Your Own PR'. Contact Jules at www.handleyourownpr.com.au
Listen to the Episode with Jules
After the GFC I realised I should just teach people how to go directly to the media themselves, and pitch their stories themselves. They don't need us to be in the middle. And, from that I launched Handle Your Own PR.
In 2017, I launched a PR platform, or what they call a SaaS platform (Software as a Service) which basically means that you can go onto the platform, build your own media contact list, write your media release in our template, and then send it out to the journalists from your own email address, and do the follow-up all within the same platform.
Since then, I've created online training programs and in-person programs, where you get to talk with lots of journalists, and brainstorm newsworthy angles.
Journalists won't regard a book in itself as being newsworthy. You've got to actually take the content that's in the book, and use it to help other people in some way, and use your book as a reference point.
In Australia, Studio 10, which is a morning TV show on Channel 10, have got 60 people in their audience every single day. If you can give them 60 units of your book, they may promote it for a minute on air, and also put links to your website, and offer promo codes.
There is also a brilliant website called Prize Pig, as in www.prizepig.com.au. That's where media outlets will go to ask for prizes and offer coverage in return.
When writing a press release, you need to write as if you are the journalist, and write a story for the editor that they can use.
If you can send a good photo with a terrific article, you will, nine times out of 10, get that published.
I'm a big believer in not just dipping your toe into PR, but committing for 12 months, and really going hard, because, if you can do that over a 12 month period, it'll probably stand you in good stead for the next two or three years. And, of course, then you know what you're doing, and so you can start sending out more regularly. But, it's about building a presence online. I think that that's really important.
I'm all about finding as many ridiculously small niches, if possible, that you can get. Because, then you'll find the media that feeds into that, and you can write messages that, immediately, people will get it. You need niche markets, and then you also need to work out what messages are going to go out to those markets, and what you want the PR to achieve.
I've got three different options for people to work with me:
One is the DIY SaaS platform – ideal if you've done PR before.
The next option is for people who want to just do a three-month campaign with my PR Bootcamp.
Then there is my PR Accelerator, where people spend two days with me every quarter, for a year, and I bring in a whole lot of journalists as well.
Subscribe Now and Never Miss an Episode
We hope you liked this episode and found it useful to your business (and you!) If you loved what you heard, we'd love your support either from a review on iTunes or a social media share.
Did you enjoy this episode? We'd love for you to share it!