Podcast Episode 3: From Consulting to Corporate
with Philippa Spork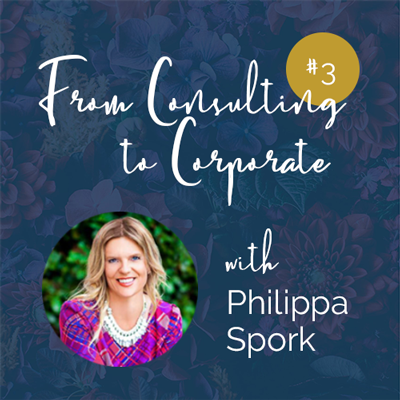 About Philippa Spork
Philippa Spork is a marketing strategist with 25-plus years' experience in key account management and sales leadership within the Australian advertising and media industry. She published 'Rules of Social Engagement' in 2016, and soon after that she won international book awards and a major business award. Her book also helped lead to her new role in corporate Australia, as Director of Marketing Operations with Accenture.
Listen to the Episode with Philippa
Philippa moved to Accenture in 2018 and runs a division in Australia, which is relatively new, called Accenture Interactive Operations. They work with marketing departments of larger organisations who are looking to find efficiencies in their marketing function, and who are looking to navigate the huge technology explosion that has overtaken the marketing department.
"When I wrote my book, 'Rules of Social Engagement' in 2015, the challenge that everybody was struggling with at the time was social media and content marketing, so that's why I went down the path I did with the book. But obviously, that's evolved even more over the past four years ago."
"Kylie Bartlett, my coach at the time, said to me, "You actually underestimate the value of what you have in your head and the arsenal of knowledge that you have, and how that might help people.""
"Each chapter had a template that you could download to fill out for your own business. So at the end of it, you came out with a business plan or a marketing plan that delivered outcomes for your business."
"The actual writing of it took six months, and I did that predominantly at night and in the school holidays. I'd find blocks of time. I'm not very structured person by nature. I've had to become so a little bit, but I would go in fits and starts: I'd always kind of try to put a good five or six hours in a week minimum."
Soon after publishing her book, Philippa won the People's Choice Award at the BNT awards for Women in Media. Her book also won global book awards: a Bronze Medal in the IPPY awards (International Independent Publish Book Awards based in America) and the Global Book Excellence Awards Winner.
"I didn't go back to corporate at the same level I'd left. When I left I was effectively in a sales management role where I was working with marketers. I went back as a thought leader and as a guide and as a sort of trusted advisor. So, I think publishing my book changed the perception of me."
Work with professionals to produce your book.
Subscribe Now and Never Miss an Episode
We hope you liked this episode and found it useful to your business (and you!) If you loved what you heard, we'd love your support either from a review on iTunes or a social media share.
Did you enjoy this episode? We'd love for you to share it!