Podcast Episode 2: A Book is Not a Business
with Sally Thibault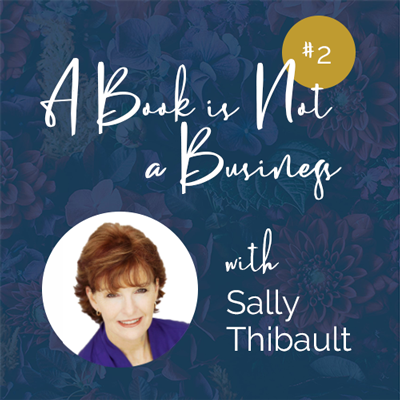 Short Description
I didn't realize at the time though, but I do realize now, that a book is not a career. It is a door opener; it is an expertise awareness platform that gives you the credibility to do other things. And since that book I've gone on to do so many other things in my life.
About Sally Thibault
Sally Thibault is a leading authority in helping women reclaim their energy and power in business and in life. She has spent over 35 years working in the field of health, wellness, counselling, personal development and coaching. You can find Sally at www.sallythibault.com.au
Listen to the Episode with Sally
BEV: Have you ever found, as a writer, that you've read other people's books and thought, "Oh, my God, who am I to have this voice in this space, because look at what they've done."?
SALLY: Oh, absolutely. And I think that huge impostor syndrome takes over. Who do I think I am? In fact, my very first book was like that, because who did I think I was. I wasn't an expert. It took me two years to write that book. What I do I think that I can bring that nobody else has? But I've come to learn that we all have different views and our experiences are what bring our books to life.
BEV: So, that book is 'David's Gift'?
SALLY: Yes. David is 35 now. He's now married and lives in Montreal and has a great job. The book came about when I was on my long service leave at my job. So, this is going back to 2008. We had been through a lot with David's autism.
The first draft of it was all about 'this is how you do it'. It was very much dry, very factual, and I hated it. I read it and I just hated it. Then one day I was looking for something and I went to the garage to pull out some documentation about an IEP that we've done for David, which is an Individual Education Profile.
I came across my old journal that I'd actually written just before and then during all of the years following David's diagnosis. As I read the journals, I recognized that that was the story and that's what happened. I managed to change the book from a very dry how-to to our own very real story.
BEV: Do you feel your first book, 'David's Gift' had a profound impact on others?
SALLY: Oh, absolutely. We released that book in 2010. And I didn't realize that serendipity and the universe stepped in. We've happened to release it in April for no other reason than that's how long it took to get it to come together. Now, I haven't realized that April is Autism Awareness Month. I had hired a PR girl at the time and we managed to get on the Today Show. I was interviewed by Lisa Wilkinson. And onto the Circle when that was on Channel 10. Then, from there a whole heap of radio interviews.
BEV: Did you find that book was partly involved in changing your career?
SALLY: Very much so. At the time I wrote the book, I was actually working in a school. And as it turned out, I'd had a health issue. It was a highly stressful job, I had a very toxic person in the environment. It really, it was the best that had ever happened to me. I think it'd still be there if it wasn't for her. So, it was great. But, it all coincided with the book. So, I left on the 31st of March and on the 20th of April I was on the Today Show.
That doesn't happen with all books but it just happened that it was, as I said, serendipitous. But it gave me the impetus to leave my work. I had been writing the book and I'd already had the vision of changing careers. I didn't realize at the time though, but I do realize now, that a book is not a career. It is a door opener; it is an expertise awareness platform that gives you the credibility to do other things. And since that book I've gone on to do so many other things in my life.
BEV: Tell us about your second book, 'Tapping to Reclaim You', which I'm proud to say we edited.
SALLY: I actually wrote that book in 30 days after I had immersed myself in the world of EFT – or Emotional Freedom Technique. I had done a course with a leading trainer in the tapping techniques and absolutely fell in love with it. And as I do with everything, I just jumped in, roots and all, then recognized that whenever I spoke about it people kept asking me for scripts and stories.
So, that's how that book came about.
And from there, interestingly enough, I ended up getting some radio work. I've created relationships with different radio hosts and I'm now the life coach on over 20 radio stations across Australia and I've been doing that now for almost two years. So, that was something that came out of that book because I developed a relationship, I'm still talking to all those same radio people and they're calling me all the time to interview me.
You got to build those relationships. And the thing about a book is, the writing is the easy part. It's everything else that comes after the writing that is important.
We learned so much with 'David's Gift'. When I was on the Today Show, within 30 minutes we had 150 book orders and they kept coming in. We had no system set up, we had no platform. The whole family was jumping in, trying to help. We had nothing for collecting emails and it was a real lesson in not understanding the business of the book. I think that's what's really important, too.
BEV: I see on your website you're currently writing your third book, so what would you like to tell us about that?
SALLY: Yes. The third book is actually called 'Lighter'.
Going back to the 1980s, I was a fitness instructor in Canada. I had my own TV show there–the first Canadian TV fitness show on cable. Jane Fonda was on one TV station and I was on the other. We know how that worked out!
Last year (2018) I thought again about diets and the weight loss industry and realised, 'This is just ridiculous. This is so wrong. We're teaching the wrong thing.' So, I sat down and created a manuscript called 'Lighter' … and we're still feeling around with the byline, but it's about how to look, and feel, and be amazing. It's a little about intuitive eating, but it's a lot about living.
I am evolving from 'Tapping to Reclaim You', so I'm looking at the marketing ahead of it. I'm building my brand, changing the brand, so by the time the book's released, the platform will be ready. I'm applying all these things that I've learned along the way.
BEV: You're highly visible now on social media. Is Facebook one of your main platforms?
SALLY: I've actually just switched four months ago to doing Instagram TV. I did Facebook Lives for about 18 months, every Saturday morning–which I loved. It was fantastic; a great platform. And of course, when you do videos all the time you get very succinct in your message, and you learn very quickly how to hold the audience's attention. But, I wanted my Saturdays back.
I was also noticing that people are now watching shorter things. They want short, sharp bites. So, now I do an IG Instagram TV probably three or four times a week. They're about three to five minutes long, so they are very succinct, which causes me to think and plan more.  
It still goes to Facebook, but I'm really enjoying the Instagram platform a lot more. I find I don't go down the rabbit hole as much. Instagram is a very powerful platform, and I think it's going to build. A part of being a great author, I think, is also being aware of changes. You've got to get your message out. How are you going to do that?
I made a decision a couple of months ago to only focus on two platforms at a time. So, right now, it's Facebook and Instagram, but I am looking more at LinkedIn at the moment. I think as writers and authors, we have to be multitaskers.
I do all the filming myself, but I have a VA and she does the posting for me. So, she picks up all my radio interviews and the IGTV, then she reposts them on my website, on LinkedIn, on YouTube.
Subscribe Now and Never Miss an Episode
We hope you liked this episode and found it useful to your business (and you!) If you loved what you heard, we'd love your support either from a review on iTunes or a social media share.
Did you enjoy this episode? We'd love for you to share it!