''I received 'Smart Women Publish' in the mail yesterday and opened it this afternoon. Wow Bev, it's fabulous! Congratulations! Such an accomplishment, and abundant resource for aspiring authors. I had to put it down after 20 minutes because I was so excited I had to head to my laptop to keep writing! I'm so thrilled for you and I hope much success and many opportunities flow to you as a result of this book. Know that you have provided great value for your readers. Well done!''
–Benita Bensch
''Your book and your writing style impressed me most. Your book focuses on the reasons and motives behind writing and publishing a book and is very touching. I had tears when I was reading the first few chapters, because the way you felt in 1997 is exactly how I felt last year. I was struggling with my own unfulfilled dreams and all the challenges we need to face in our changing industry. I would like to feel the excitement I have felt before in my career. I want my book to both move people emotionally and also provide useful guidance and solve the problems. Thank you for telling your story through your book: that was inspirational."
–Reader
SPECIAL BONUS OFFER DURING 2020:
Purchase a print copy of Smart Women Publish (with or without the accompanying Book Journal) and RECEIVE a GIFT VOUCHER for 45 minutes of one-to-one personalised book coaching time with Bev Ryan, to be accessed by 30 June 2021. Cost of the book is $25+postage. Total value is $300.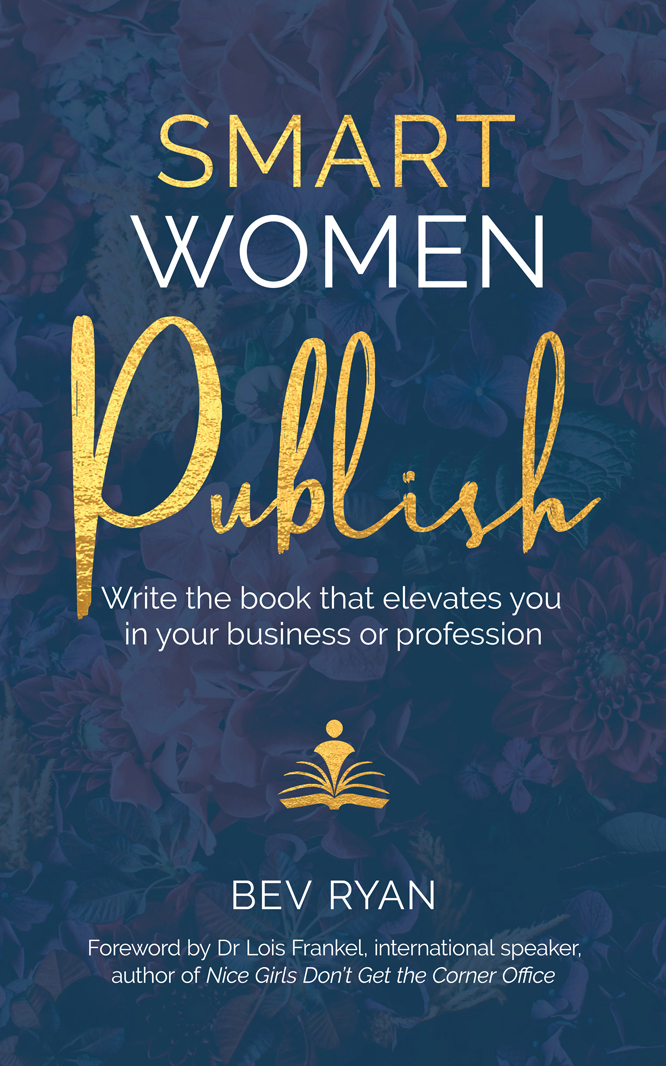 The Book
Smart Women Publish
Savvy business and professional women are embracing book authorship as a way to stand out in their field, and as a platform for further growth through speaking, educating, implementing change, developing products and/or programs, and partnerships.
Smart Women Publish shows you WHY publishing your own book is a smart business (or career) move – and sets out the publishing process clearly, to show you HOW to do it. The book also includes the publishing stories of 14 women in business to inspire you and give you some helpful pointers.
ALSO AVAILABLE: An A5 Book Journal that accompanies Smart Women Publish, to be used for notes and ideas as you respond to the questions at the end of each chapter in the book.
SCROLL DOWN to read the table of contents to find out what we cover in Smart Women Publish.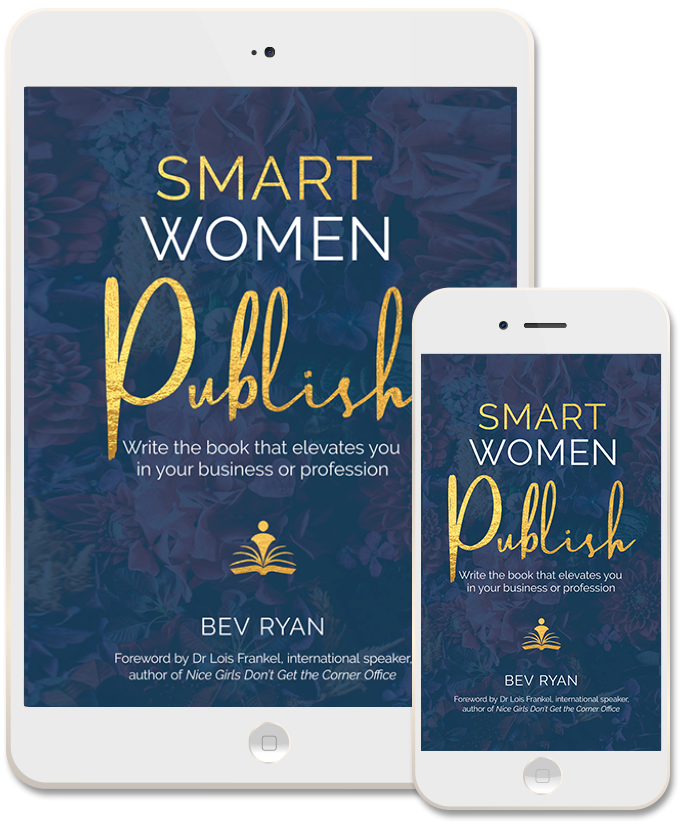 DIGITAL VERSION $12.99 (.epub)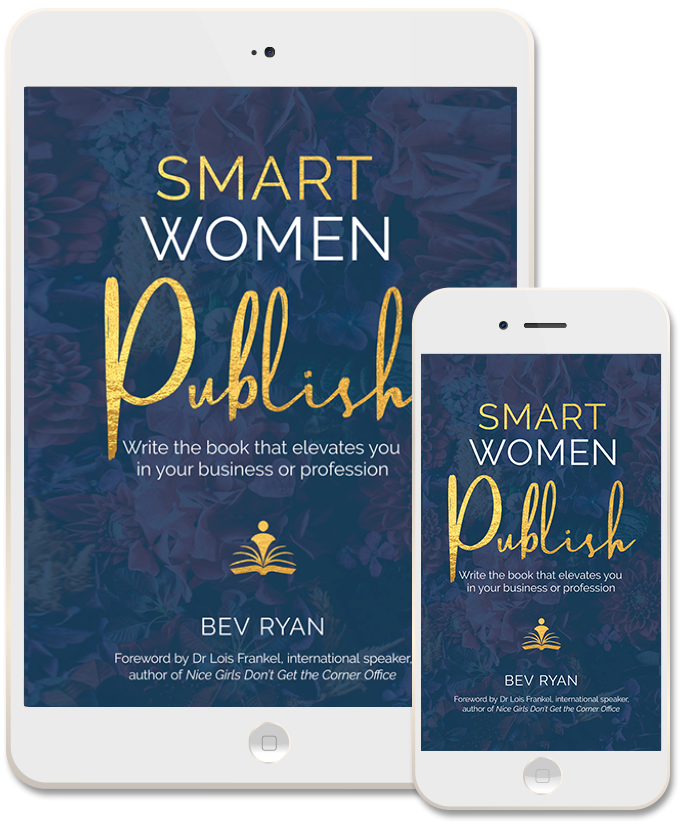 KINDLE VERSION $12.99 (.mobi)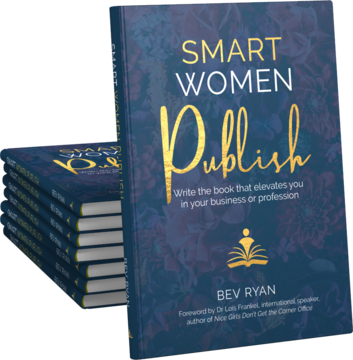 PRINT BOOK (soft cover) + COACHING VOUCHER $25 plus postage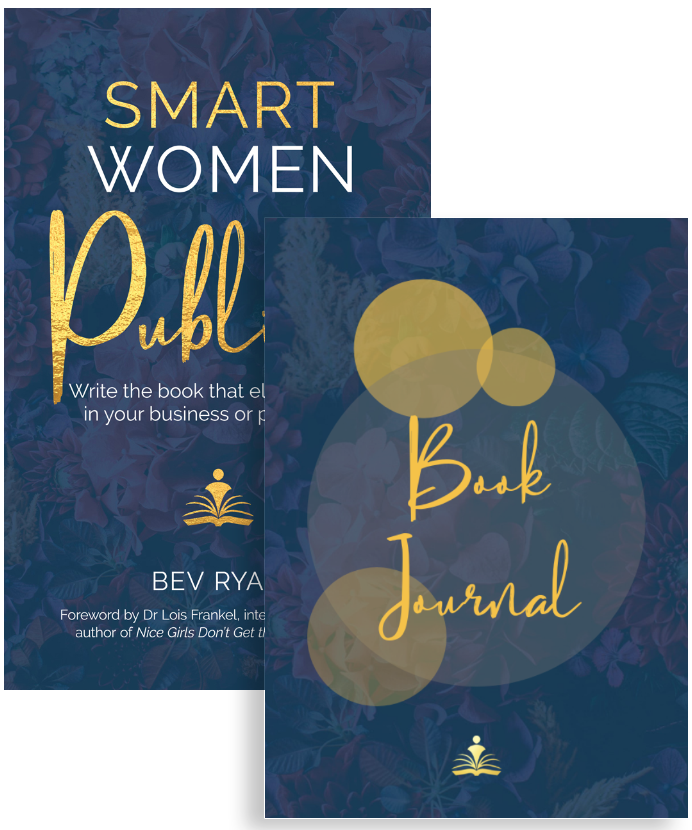 PRINT BOOK (soft cover) + COACHING VOUCHER + BOOK JOURNAL $32 plus postage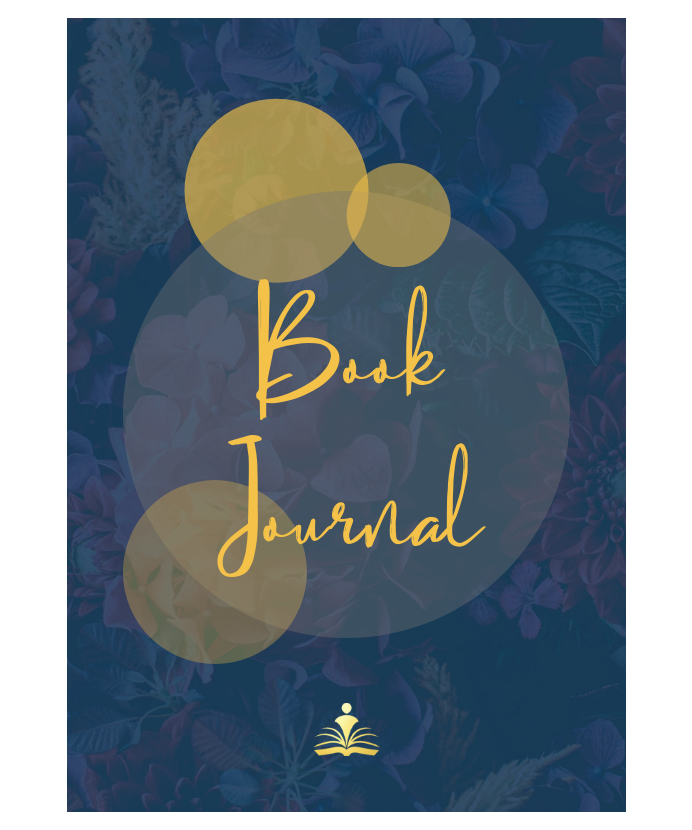 PRINT BOOK JOURNAL ONLY $15 plus postage
Book Contents
Click each circle on the left (below) to open up that section of the book.
Part A - What a Book Can Do for You
It's Your Time

The Power of Publishing

Set Yourself up for Success

Who Wants What You Have?
Part B - Time to PLAN
Your Publishing Project

Your Book Plans

Your Book Content Plan

Your Support Team
Part C - Time to PRODUCE
Find Your Author Voice

Tips to Help You Write

Funding Ideas
Part D - Time to PUBLISH and MARKET
The Book Creation Stage

Prepare for Launch and Leverage

Media and Speaking

Expand and Elevate
Conclusion
Bonus
Case Studies Included
Fourteen business women also share their author success stories to show you just how a quality book can enhance your business and totally change the way the world sees you.
Smart Women Publish not only shows aspirational women how self-publishing their own book has the potential to dramatically alter their business and the way they deliver their services, but also their life. Publishing an important book ticks all boxes: pleasure, stimulation, significance, connection, growth and contribution!
MaryAnne Leighton, large animal rescue educator
Jane Hanckel, educator and children's advocate
Dr Maria Boulton, GP and practice owner
Barbara Winter, self-employment advocate
Kathryn Hodges, family lawyer and practice principal
Christine Franklin, psychologist and rural health advocate
Tanya Bartolini, passionate cook and entrepreneur
Jane Grieve, business owner and writer
Amy Roche, retail experience expert
Dolores Cummins, executive coach and mentor
Beth Jennings, photographer and storyteller
Bronwyn Reid, business owner and consultant
Anne Galloway, beef producer
Helen Baker, financial adviser and business owner